marketplace
SEEK's purpose is to help people live more fulfilling and productive working lives and to help organisations succeed. Our employment marketplace is focused on facilitating the matching between jobseekers and employment opportunities, whilst helping hirers find the right candidate for their role.
SEEK is the 1st choice for 3 in 4 jobseekers, with an average 28 million jobseeker visits per month. We help fill 10 times more roles than our nearest competitor, with 2/3 of online placements in Australia being made through SEEK.
With a range of products and services such as proactive search, demographic targeting, branding solutions and job ads, SEEK has become the first choice with hirers for talent.
Support Regions
ANZ
PRODUCT OVERVIEW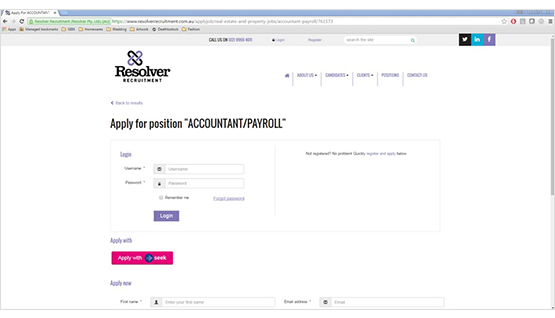 As candidates move to mobile, it is becoming more important to make it easy for them to apply for roles, helping hirers connect with the right talent.
Apply with SEEK allows candidates to use their SEEK profile and stored CV to prepopulate application forms hosted by JXT on corporate and recruiter careers portals.
Apply with SEEK offers a range of benefits to the candidate and hirer.
Candidates can:
Quickly and easily apply for roles on desktop or mobile devices
Easily apply for roles on careers portal apply forms hosted by JXT
Use their SEEK profile to prefill application information
Attach their stored CV and cover note to their application
Hirers can:
Use an apply form hosted by JXT
Ask highly customised or complex screening questionnaires
Gain candidate agreement to privacy terms and conditions
Improve the candidate's brand experience
Manage applications within their recruitment system
TOP 3 KEY FEATURES
1
Candidates can use their SEEK profile and stored CV to prepopulate application forms across desktop and mobile devices
2
Candidates can easily apply for roles on a careers portal apply page hosted by JXT
3
Hirers can manage applications within their internal recruitment system
TALK TO SALES REPRESENTATIVE
Please complete the form to request a demonstration, discuss your needs, purchase solutions, or ask additional questions.